"Stockton to Malone" was the common phrase for nearly two decades for Jazz fans. Usually it would end up in a one handed Mailman slam. Over the years, Utah Jazz fans have been spoiled with two of the greatest players to ever hit the hardwood.
Oh, how things have changed.
Coming into the 2013-2014 season, Jazz nation knew it would be a struggle. However, did they expect an 0-7 start?
The sentiment among the Utah Jazz followers was this was the year the young guys would get the minutes. This year was about development for the "Core 4" as they are known (Hayward, Favors, Kanter and Burcs). Yet, its been tougher than imagined.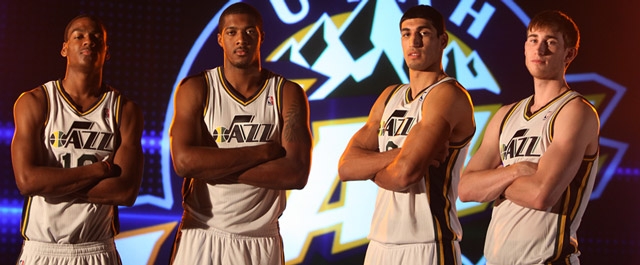 Due to the aforementioned spoiling of the fans with great basketball tradition, Utah Jazz fans are smart spectators. They know when there is a lack of talent, and when there is a lack of scheme. Jazz fans are also understanding of when the team is over-achieving or likewise on a true path for contention. This smart fan base, unlike many in the league, deserves good basketball.
So far this season, the product on the court has been nothing short of abysmal. Yes, struggles were expected. However, ineptitude cannot be tolerated. The Utah Jazz continue to be front runners for a top three draft pick in this upcoming 2014 loaded NBA draft. That is not something Jazz fans will ever be okay with.
Consider how long rebuilding typically takes teams, even a top 3 draft pick won't guarantee a dramatic increase in victories next year. Look at the Cavaliers continued appearance in the lottery (and winning it).
That being said, what will happen mid-season for this Jazz squad? Changes need to be made. Lackluster performances cannot be tolerated. They aren't going to the playoffs and they aren't going to be good next year either.
At what point do the Jazz brass decide to put a team on the court worth buying tickets for? The absence of Trey Burke cannot be overstated. Yeah, he didn't have great success in the preseason. However, the point guard position on the team is its biggest gaping hole of a weakness. Burke will be an enormous upgrade in talent, especially with his ability to create plays for others. That will be a welcome sight to any basketball fan, especially those rooting for the Jazz.
I, for one, as a lifelong Jazz fan, cannot stand to see this pathetic squad. My high-school senior team looks better than they do. Have a little pride, get angry and hit some buckets. Stop pretending to be something you're not and go play the game you get paid to play. Ty Corbin, I'm sorry, but I'm not sold on your ability to win games. Its time for you to go. The Jazz need an overhaul that can compete next year, and not in 3-4 years, as the plan currently has set forth.
This season was always going to be tough to swallow. Now its going to be harder to watch than I anticipated.